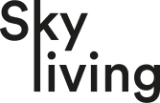 Leaders in airspace development
At SkyLiving, we are pioneering the evolution of our cities' skylines through stylish rooftop housing. As experts in Airspace Development, we manage the entire process from start to finish, to ensure our vision for the future of urban space becomes a reality.
Our mission is to create a new generation of elegant, sustainable housing. As part of the Glenwell Group we have the expertise, resource and experience to succeed in our mission. One innovative, sustainable and stylish rooftop at a time, we're committed to bringing our vision to life.
Skyliving